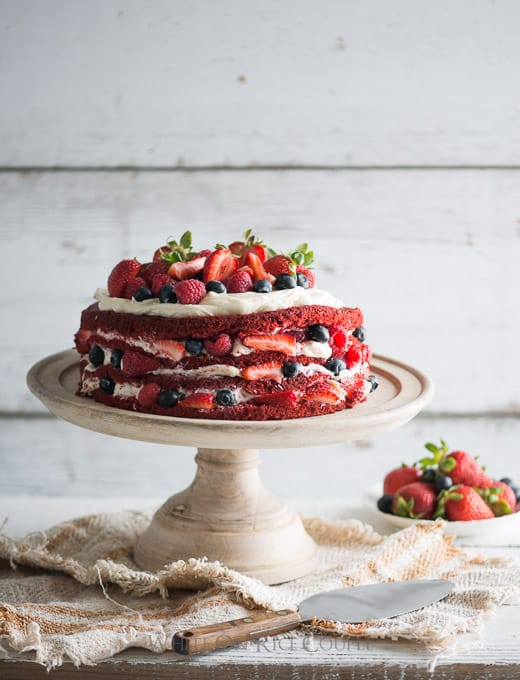 Red Velvet Cake
INGREDIENTS:
cake:
2 cups (275g) cake flour
1/4 cup (22g) unsweetened cocoa powder
1 teaspoon baking powder
1 teaspoon baking soda
1/2 teaspoon kosher salt
1 cup (240ml) buttermilk
1/4 cup (60ml)vegetable oil
2 Tablespoons (30ml) liquid red food coloring or about 1 Tablespoon (15ml) Americolor #119 Red Red color Gel
1 teaspoon white vinegar or apple cider vinegar
2 teaspoons vanilla
1 1/2 cups (300g) sugar
1/2 cup (1 stick or 113g) unsalted butter, at room temperature
2 large eggs
frosting and finishing:
Two (8oz - 225g) packages cream cheese, softened
1/2 cup (1 stick or 113g) unsalted butter, at room temperature
2 1/4 cups (270g) powdered sugar
2 teaspoons vanilla extract
Mix of fresh berries (about 1.5 pounds - 680g). If you're using strawberries, slice them.
METHOD
baking the cake:
Pre-heat oven to 180°C.
Grease or butter and flour two 9-inch cake pans (or line the bottom with parchment paper).
Sift or whisk together flour, cocoa powder, baking powder, baking soda and salt in a large bowl. Set aside.
Whisk together buttermilk, vegetable oil, red food colouring, vinegar and vanilla in a medium bowl until well blended. Set aside.
In a stand mixer bowl (if using a hand electric mixer use a large bowl) beat together sugar and butter in until combined well. Then add one egg at a time into the butter/sugar mixture until everything is well blended.
Beat in 1/2 of the dry flour mixture and 1/2 of the wet buttermilk mixture until smooth. Repeat with remaining dry and wet mixtures until batter is smooth.
Pour the batter divided into the two 9-inch cake pans. Scrape the bowl using a rubber spatula to ensure all the batter is used.
Bake the cakes for about 25-30 minutes or until cake is baked through. Insert a toothpick tester into the center of the cake. If it comes out clean, it's cooked.
Cool the cakes, then gently turn them over and release them onto cooling racks. Allow cakes to cool completely before frosting.
frosting and finishing the cake:
In large bowl, add cream cheese, butter, powdered sugar and vanilla. Cream together all the ingredients until smooth and creamy.
Gently cut each cake in half horizontally to make 4 layers of cake. Then spread about one-fourth of the cream cheese frosting over 1 layer of cake. Layer about 1/4 of the berries over the frosting. Repeat the same steps over the remaining cake layers. Top the final layer with berries.